Sentinel Sport Horses Presents
Acorino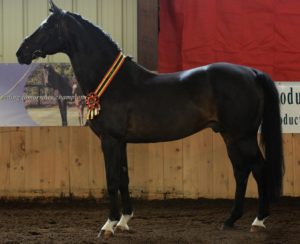 (Acorado x Joost x Ladalco)
2001 Holsteiner Stallion – Stamm 104A
Acorino's sire Acorado I, won the 1997 Adelheidsdorf stallion performance test receiving 10s for his jumping ability.
Joost, who is internationally known for his production of outstanding jumpers, sired Acorino's dam, Folia II.
Acorino is a stallion imported from Germany. He is a product of one of the most significant motherlines in Holstein–stamm 104A. At his 30-day test in Adelheidsdorf, he received an 8 for character and a 9 for temperament. In 2009, he was the top scoring stallion approved by the American Holsteiner Horse Association, and it was noted that he is a great example of a correct stallion, of modern type, with good scope of jump and excellent ground coverage and balance.